A world first, new features, partnerships and awards – 2023 had it all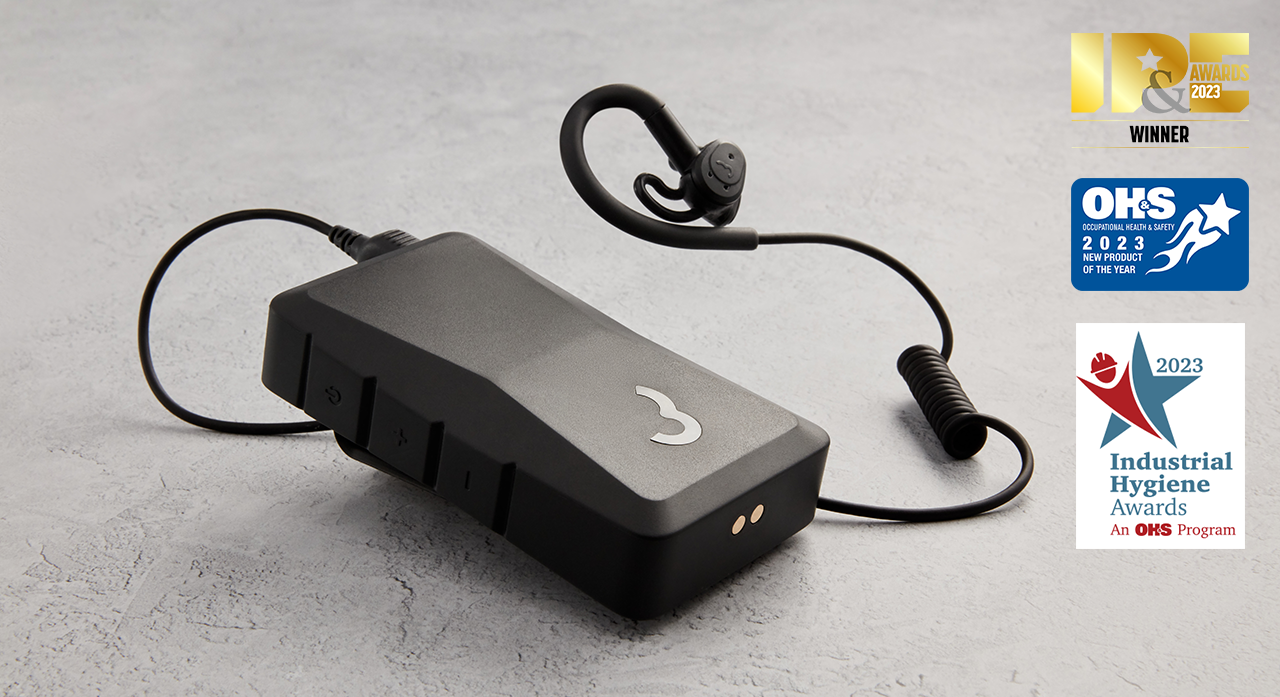 As the end of another year draws closer, I've been reflecting on how much Bodytrak has accomplished in the last 12 – seemingly short – months.
One of our biggest achievements – and proudest moments – this year was launching our second device: Bodytrak 1 IS. We became the first and only in-ear physiological monitoring solution that is intrinsically safe. This ensures workers in dangerous environments, from chemical and petrochemical plants to utilities and oil and gas, can now use Bodytrak.
This is particularly significant because, until now, the latest safety advancements have not been certified for use in hazardous environments, where paradoxically, workers are at greater risk of inherent dangers and, therefore, could benefit the most.
Consider that workers in petrochemical plants must wear heavy personal protective equipment (PPE) or hazmat suits to protect against contact with toxic materials. This type of PPE is generally impermeable for safety reasons, so there is little to no cooling through the evaporation of sweat. This exposes workers to greater indirect risks like heat stress and fatigue-induced incidents, raised heart rate, dehydration, hyperthermia, and compromised decision-making.
Without proactive monitoring for physiological markers, knowing if someone is coping well or experiencing problems is impossible. When symptoms go undetected or intervention comes too late, employees experience significant health, well-being, and productivity challenges, while businesses face huge costs.
Associated costs include evacuating workers, for example, from a remote oil or gas rig, productivity losses following an incident, associated medical expenses, worker compensation and other legal costs, and potential regulatory fines.
Bodytrak 1 IS is designed to work comfortably alongside PPE and other safety equipment. For the first time, it provides real-time data about physiological and risk markers for employees operating in hazardous industries. By accurately and continuously monitoring factors like heart rate and core body temperature, Bodytrak detects risks like heat stress and fatigue early, alerting users and supervisors so they can take action or intervene and prevent incidents.
It's been a long road to achieving intrinsic safety certifications (ATEX and IECEx) due to the complexity of ensuring electronic equipment is safe for use in potentially explosive environments where flammable gases and vapours are present and sparks could result in severe and harmful repercussions. Our conversations with people operating in hazardous industries worldwide have demonstrated a considerable appetite for better safety advancements in their sectors.
Knowing that, with these certifications, Bodytrak could make a significant impact on workers most at risk, we wanted to fill the gap. The certificates are a testament to our team's dedication and our understanding of the environments and industries most in need of such solutions.
Aside from this major achievement, we've continued to develop critical safety features, integrating them into the Bodytrak solution so that a host of safety challenges can be addressed via a single comprehensive solution. This year, we introduced a user-activated SOS alarm that triggers automated alerts for emergency support.
We've also continued to grow our global network to facilitate new feature development. We partnered with NextNav, which allows Bodytrak to incorporate z-axis positioning, enabling precise indoor vertical positioning and allowing efficient intervention and rapid assistance of those in need in a multistorey building, for example.
Geolocation is particularly important for protecting lone workers, employees operating in confined spaces, or those at risk of losing situational awareness and requiring immediate assistance in the event of an incident. These employees are at greater risk of entering controlled access or hazardous zones, such as in mining. Bodytrak geolocation and geofencing features instantly alert users if they have roamed outside of the safe area.
Partnerships are also helping extend Bodytrak's international reach into markets where safety is paramount. Earlier this year, we partnered with Industrial Protective Products, a prominent provider of PPE throughout Australia. Our collaboration introduces Bodytrak to the Australasia market, revolutionising workplace safety and incident prevention in mining, construction and associated industries.
Our efforts are helping reduce workplace incidents and fatalities for thousands worldwide, and we're being recognised for it. This year, we were winners in the connected devices category at the Industrial Hygiene Awards. We also won The Occupational Health & Safety New Product of the Year award for the wearable devices category and the Industrial Safety Solution of the Year award at the Industrial Plant & Equipment Awards.
We've been shortlisted for Tomorrow's Health & Safety Awards 2024, which celebrate the most innovative products and services that keep workers safe from harm while making the lives of health and safety professionals easier.
I'm really proud of our work this year and our commitment to improving safety for people working in various challenging environments. Helping protect their well-being and productivity while supporting the health and safety strategies of organisations around the world is extremely rewarding. We've achieved remarkable milestones in developing the world's first non-invasive in-ear safety solution for hazardous environments, and I'm looking forward to what may come in 2024.
Keep watching this space. In the meantime, let me know if you'd like to talk to us about Bodytrak's intrinsically safe solution. We'd also love to hear about your experiences working in hazardous environments – we might be able to help.
---
Written by Leon Marsh, Founder & CEO of Bodytrak (21 November 2023)