Tired of Juggling Multiple Safety Solutions?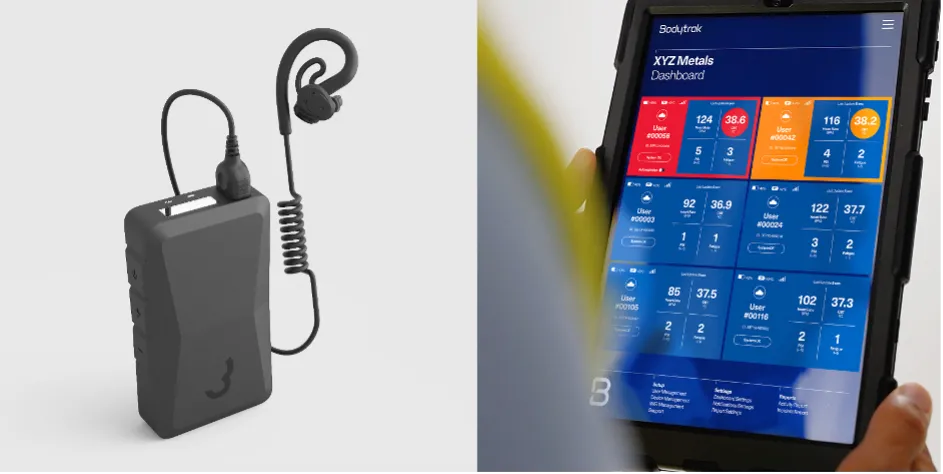 Our Comprehensive Wearable has You Covered
In today's fast-paced business landscape, organisations have access to more information about the health and safety of their employees, increasing awareness and making it a greater priority than ever before. From lone workers, to increasing temperatures in the work environment and the dangers of occupational noise, organisations often have to resort to using different devices and personal protective equipment (PPE) to address each hazard. However, relying on multiple devices to address workplace hazards can be inefficient, costly, onerous for users and supervisors and time-consuming. Worse still they are not integrated, so monitoring and responding to issues is challenging, as is internal compliance and reporting. Mitigating these risks requires a single comprehensive approach. Fortunately, new smart safety solutions like Bodytrak are changing the game and revolutionising safety monitoring through one single wearable solution.
Organisations can now say goodbye to coordinating several different devices. Discover how Bodytrak provides a streamlined safety solution optimised for preventing workplace incidents and ensuring employees return home safely after each shift.
Limitations of traditional safety monitoring systems
Unlocking efficiency with a single solution
---
Traditionally, organisations have relied on a collection of disparate devices to address different workplace hazards. From noise exposure meters and wet globe bulb temperature (WGBT) to motion-detecting cameras to monitor blinking for fatigue, these are just a few of the devices organisations have deployed over the years as part of their safety arsenal in addition to general PPE. While these tools may have been adequate, managing multiple data streams and analysing information from various sources can be cumbersome, ineffective and costly.
Simplifying Data Management: Using numerous devices leads to scattered data that can be challenging for successful data management. Organisations often find themselves delving through different data formats from incompatible software, making it difficult to gain a holistic view of the health and safety of employees. This can limit decision-making and the ability to implement effective preventive measures.
Device Overload and User Compliance: Relying on separate devices for each hazard can burden employees, both physically and mentally. Workers end up carrying an array of equipment in addition to the tools required for their jobs. This increases their physical exertion while heightening their risks of incidents. The complexity of operating and maintaining multiple devices can also result in compliance issues, as employees find it inconvenient or time-consuming to consistently use and maintain them.
---
Bodytrak is changing the game by helping organisations reduce the need to invest in multiple devices. Designed with the latest innovations in technology, Bodytrak offers a single, compact wearable solution that monitors the physiological response of each individual while providing alerts to both the user (via audio prompts) and supervisor (via the Dashboard, SMS and email) to prevent incidents caused by heat stress, fatigue and noise exposure. Alongside the critical health and safety metrics, employees also have access to in-ear hearing protection and a user-generated SOS alarm while employers have access to 3D geolocation and geofencing in order to deploy immediate assistance when required. By offering a single wearable solution that mitigates the risks of several workplace hazards, Bodytrak revolutionises worker safety and optimises overall employee wellbeing and safety budgets.
Comprehensive Safety Monitoring: Bodytrak surpasses the limitations of traditional devices by capturing physiological data and providing safety alerts via one solution. The wearable in-ear device is equipped with advanced sensors to accurately monitor core body temperatures (CBT), heart rate, physiological strain index (PSI) and fatigue simultaneously, providing organisations with a comprehensive real-time understanding of an employee's response to workplace stressors. In addition to this there's noise metering within the device to prevent harmful exposure and an accelerometer and gyroscope to detect falls and inactivity. All these vital insights are transmitted from the Bodytrak Communications Pack (CommPack) to the Incident Management Platform via a WiFi or a cellular network. Bodytrak has partnered with a global cellular operator to ensure users receive the best cellular coverage, anywhere in the world. This ensures there is no restriction on the transmission range and a user's data can be viewed from the other side of the world, if required. If the worker is in a location where WiFi or cellular connectivity is unavailable, the Bodytrak device will store the data internally and will continue to notify users with physiological alerts via the audio prompts, thereby acting as a new type of buddy system, especially for lone workers. Once the connectivity is re-established, the Bodytrak device will transmit the stored and live data to the Platform so information is retained for reporting and compliance.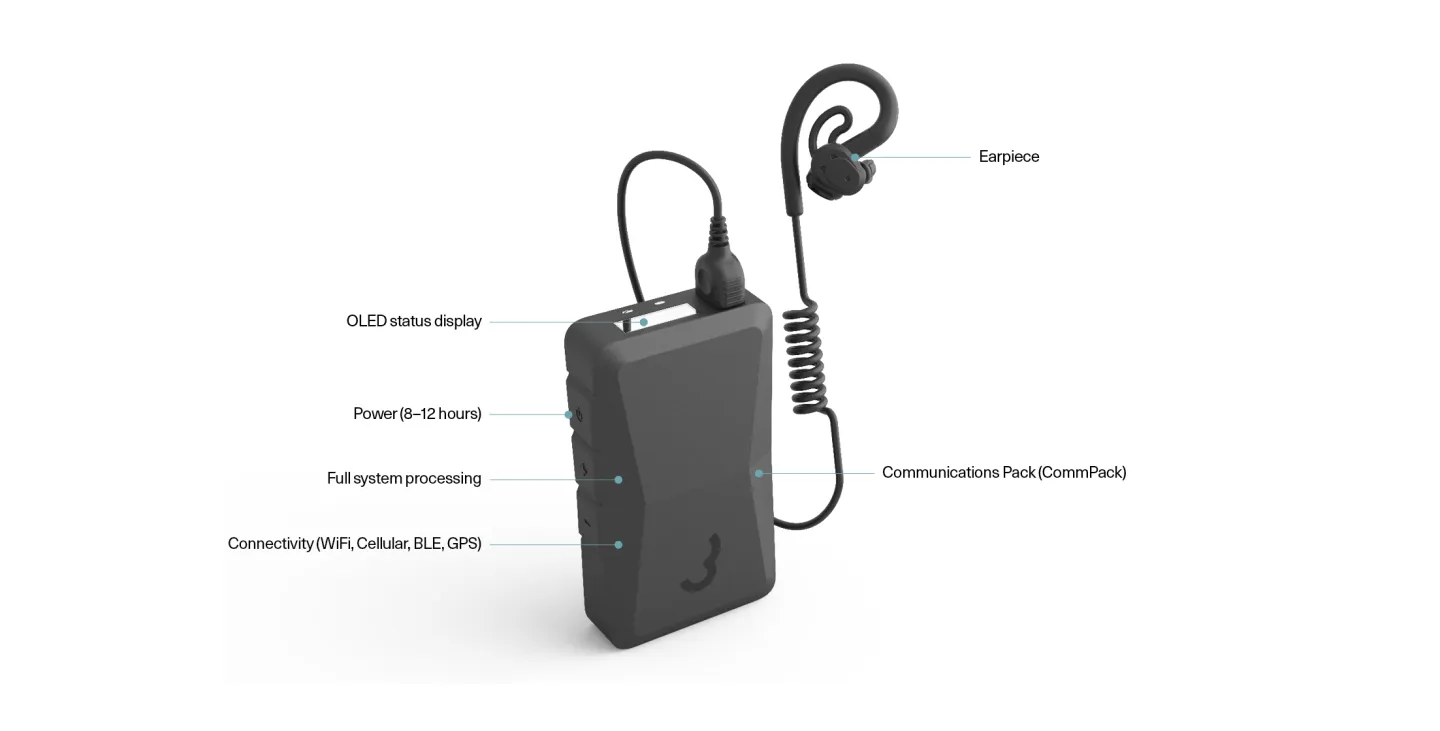 A comprehensive solution that prevents multiple workplace incidents


The Bodytrak Device consists of a comfortable, easy to wear Earpiece and communications pack (CommPack), which can conveniently clip to a belt or be placed in a pocket. It is lightweight and has a smaller footprint than a standard smartphone.
Enhanced Comfort and User Compliance: Lack of comfort is often one of the main reasons for non-compliance. The ergonomic Bodytrak Earpiece design and different size earbuds and wingtips guarantee a comfortable fit, while its lightweight construction minimises employee burden. The Communications Pack (CommPack) has a smaller footprint than a standard smartphone and is also lighter. By providing a user-friendly experience, Bodytrak encourages consistent and widespread adoption, enabling organisations to gather reliable data collection across their teams.
Seamless Integration and Streamlined Data Analysis: All data collected by the Bodytrak solution, as well as mapping interface, alert configurations and reporting, is accessed by the intuitive and easy-to-use Bodytrak Incident Management Platform. Where organisations already have a monitoring platform they would like to integrate the Bodytrak system into, REST-APIs are available for a unified interface, eliminating the hassle of managing multiple data formats. This streamlined approach ensures effortless data synchronisation and analysis, enabling organisations to make informed decisions and implement preventive measures efficiently.
Intelligent Insights and Proactive Risk Mitigation: Leveraging advanced proprietary algorithms, Bodytrak not only captures data but also offers intelligent insights and predictive analytics. By analysing trends, patterns, and risk indicators, Bodytrak enables organisations to proactively identify potential workplace health and safety hazards, preventing incidents before they occur. These powerful and automated report insights enable organisations to make informed decisions when evaluating existing engineering and administrative controls.
---
The days of having to manage a multitude of safety devices to address various workplace hazards are gone. With Bodytrak, organisations can implement a streamlined and comprehensive approach to employee safety. By capturing critical data on noise exposure, heat stress, fatigue and more, Bodytrak revolutionises safety monitoring. Embrace the future of safety solutions with Bodytrak and unlock efficiency, accuracy, and a workplace environment where safety is paramount. Streamline your safety efforts with Bodytrak and experience the true potential of comprehensive safety monitoring.