Lone Worker Safety Guide: Best Practices
According to the Healthy and Safety Executive (HSE), an individual who works by themselves for a portion of their workday without close or direct supervision is defined as a lone worker. With the number of lone workers continuously increasing, it poses unique challenges and safety concerns for both employees and organisations. While lone workers are exposed to the same risks as other team members, the risks are often heightened which is why focusing on prevention is paramount to lone worker safety.
The following guide examines the importance of lone worker safety and best practices, while discussing effective strategies that organisations can implement to ensure employee well-being and the mitigation of workplace risks.
Common risks faced by lone workers
How can organisations keep lone workers safe?
Key safety measures for lone workers
The role of personal protective equipment in lone worker safety
Protocols, techniques and technology for keeping lone workers safe
A comprehensive safety solution for lone workers
Employee training and education
---
When evaluating the safety and well-being of lone workers, it is crucial to recognise the common risks they face in their line of work. Working alone, whether in remote locations or in industries such as construction, logistics and transportation or engineering, can expose individuals to a unique set of hazards. Here are some common risks and primary concerns that should be addressed in order to develop strategies and implement the right tools to overcome these challenges.
Lack of Immediate Assistance: Recent reports have found that almost 1 in 5 lone workers who have had an accident have struggled to get help. Consider an employee who collapses and is rendered unconscious in a warehouse. The majority of organisations have trained staff or first aiders who can provide immediate assistance, contact emergency services and monitor the worker until a medical team arrives. However, when an employee is working alone in an isolated location, it is very unlikely they will have access to the same level of support when required.
Heat Stress: Heat exposure causes over 170,000 work-related injuries and 2,000 fatalities every year. While the risks are heightened during warmer months and in industries that face this issue each day, lone workers can be more susceptible to heat stress due to remote locations, limited resources and lack of supervision. Rest breaks and appropriate work scheduling are vital factors when managing heat stress. However, when completing job activities alone, continuously, there often isn't adequate recovery time where an individual can rehydrate and cool down, heightening the risks of heat-related illnesses.
Fatigue: Often underestimated in the workplace, the consequences of fatigue can be catastrophic when it's combined with lone working and the tasks of the job, whether that be driving long distances or operating and maintaining heavy machinery. Research suggests that the effects of fatigue on the brain are as harmful as drink-driving. Based on these findings, it's no wonder sleep deprivation causes over 100,000 truck crashes each year in the US.
Crime: In the US, research found that almost half of the lone workers surveyed felt unsafe at work. As lone workers often operate in isolated areas and alone, this can make them extremely vulnerable and a target for crimes such as robberies, hijacking and assaults. In the event of an incident, the risks for lone workers can be exacerbated due to the lack of immediate support available to them.
---
There is no doubt that lone workers present greater risks for the employee and employer. However, organisations can overcome these challenges in various ways.
Hazard Assessment: It's crucial that companies not only assess the hazards of work areas within their direct reach or control but also review the locations and environments that their lone workers are likely to be exposed to. Conducting a thorough risk assessment of working conditions and environments helps identify potential hazards so that appropriate precautions can be taken to mitigate identified risks and minimise the likelihood of an incident.
Lone Worker Policy: Companies must create a written health and safety policy around lone worker safety and ensure that loan workers understand the risks they may face and set expectations. These policies should also be regularly reviewed and updated as environmental conditions, regulations and expectations change.
Employee Training: It's not effective to only point out the hazards to employees; companies must provide training on best practices for identifying and mitigating the risks. Lone worker employees are isolated and they need to rely on their own skills and knowledge to stay safe more than others might. Employers can help by providing them with the necessary tools and training.
Hazard Elimination: Identifying hazards is essential for creating a safer workplace. However, companies must also act on their findings by preparing for and/or eliminating the dangers that lone workers are likely to encounter. Physiological data can often provide insights to help with planning. For example, a logistics company may find their drivers are much more fatigued after driving more than a certain number of hours or when driving at particular times of the day. Using this information, the organisation can ensure shift schedules are optimised for safety and performance.
Communication: With no one physically present to keep an eye on lone workers, it's essential to maintain consistent communication. Lone worker safety devices are one of the best ways to keep in contact with workers.
Preparation: Often in remote locations without easy access to help or supplies, preparation is key for injury avoidance. Lone workers should be equipped with emergency supplies like first aid kits, extra food and water, a fan and a canopy to stay comfortable and safe in extreme conditions.
---
The following points highlight the main measures that lone workers must prioritise. By implementing these key safety measures, lone workers can enhance their personal security and confidently work, knowing their well-being is a top priority.
Communication: This is a vital part of the strategy. Lone workers must have reliable communication devices readily available to maintain constant contact with supervisors and seek assistance when needed. They must also be able to operate these effectively when required.
Physical Well-being: Managing factors such as heat stress and fatigue is crucial. Lone workers should stay hydrated, take regular breaks and prioritise rest to reduce the risk of heat-related illnesses and fatigue-related accidents.
Check-in System: Establishing a robust check-in system with supervisors or colleagues ensures regular updates on status and prompt response in case of emergencies or missed check-ins. Scheduling periodic check-ins on their well-being, health and safety, and not just the tasks at hand, will be extremely beneficial.
---
Personal Protective Equipment (PPE) serves as a vital line of defence against workplace hazards and helps minimise the risks an employee may encounter. The role of PPE for lone workers is no different. Here are some of the key aspects of PPE and its role in safeguarding lone workers.
Hazard Mitigation: PPE is designed to protect lone workers from specific workplace hazards. It includes items such as helmets, gloves, safety goggles, high-visibility clothing, respiratory masks and protective footwear. By wearing appropriate PPE, lone workers can reduce the likelihood of injuries or accidents related to environmental factors, physical hazards or airborne substances.
Personal Protection: PPE acts as a personal barrier between lone workers and potential dangers. For example, safety helmets protect against head injuries from falling objects or overhead hazards, while gloves safeguard against cuts, punctures or chemical exposure. High-visibility clothing enhances visibility, reducing the risk of collisions or accidents in low-light environments. PPE ensures that lone workers have a physical layer of protection against workplace hazards.
Compliance with Regulations: PPE plays a vital role in ensuring compliance with occupational health and safety regulations. Regulatory bodies often mandate the use of specific PPE based on the nature of the job and the identified risks. Adhering to these regulations is not only a legal requirement but also a fundamental aspect of ensuring lone worker safety.
Confidence and Peace of Mind: Wearing appropriate PPE instils confidence and peace of mind in lone workers. It provides them with a sense of security, knowing that they have taken necessary precautions to protect themselves while working alone. This confidence allows them to focus on their tasks without undue distraction or anxiety, enhancing overall job performance and well-being.
However, it is crucial to note that PPE is just one aspect of lone worker safety. It should be complemented with other safety measures, such as training, risk assessments, communication systems and emergency protocols. Organisations should assess the specific hazards faced by lone workers and provide them with the necessary PPE suited to their work environment, while also ensuring proper training and adherence to safety protocols. By integrating PPE effectively into lone worker safety strategies, organisations can promote a safer work environment for their employees.
---
Lone worker safety requires a holistic approach to ensure employees can return home safely after each shift. By implementing a combination of protocols, training techniques and technology, organisations provide a proactive approach to mitigating hazardous risks, with the necessary resources, support and communication tools to respond effectively in emergencies and ensure worker well-being.
Protocols: Clear guidelines and procedures that highlight and address potential workplace risks and appropriate actions should be created and distributed to each relevant individual within the organisation. It's imperative that these guidelines are clearly communicated and easily accessible. They should include reporting mechanisms for incidents or hazards, emergency response plans for various scenarios, guidelines for working in hazardous or remote locations and limits to what can be done while working alone.
Techniques: Once protocols have been established, it's important to conduct regular training sessions to familiarise lone workers with the guidelines to keep them safe. While lone workers are working alone, it's also important for any allocated buddy systems or virtual escorts to understand the protocols and the vital role they play in regular communication and support.
Technology: As the work landscape has evolved, so has technology. Communication devices, such as two-way radios, mobile phones or dedicated lone worker safety systems, GPS tracking systems and wearable devices, are now available for real-time monitoring and location tracking. Lone worker safety devices and apps have panic buttons or fall detection sensors. Considering technology in the approach to lone worker safety will add another level of safeguarding and confidence for the employee and organisation.
---
There's no doubt technology is an important piece of the puzzle for lone worker safety. A solution like Bodytrak® can prevent multiple workplace hazards through a single device. Bodytrak's comprehensive solution continuously monitors an individual's response to physiological changes to mitigate workplace risks and prevent incidents caused by fatigue, heat stress and noise exposure. Alongside real-time monitoring, important features such as geolocation, geofencing and SOS alert add another level to safeguard teams. Whenever an alert is generated, Bodytrak can instantly identify where the user is located, whether they are indoors or outdoors, allowing rapid assistance to be deployed. Similarly, the SOS alert is a simple user-activated alarm that is triggered on the Dashboard and via SMS and email when urgent support is required.
Consider a lone worker who is out in the field, working in temperatures of 40°C/104°F and beyond. Temperatures at this level create a large physiological burden. With the Bodytrak device, the user will receive an audio prompt if their core body temperature (CBT) exceeds the preset threshold so they know they are at risk of serious injury and are prompted to take the necessary precautions to cool down. Simultaneously, the control centre/supervisor will also receive an alert via the Dashboard (and SMS and email if configured) to alert them that one of their team members requires assistance. With the geolocation feature, the exact location of the worker can be shared so that immediate assistance can be dispatched. Alternatively, if they are working in an isolated area with valuable goods and are vulnerable to theft (i.e. truck drivers at risk of hijackings), the user can trigger an SOS alarm via the device so that support can be sent as rapidly as possible using their geolocation as key information.
Leveraging the benefits through a single solution like Bodytrak, rather than disparate tools within an organisation's lone worker strategy, will help organisations ensure their lone workers can return home safely after each shift and reduce overall spend.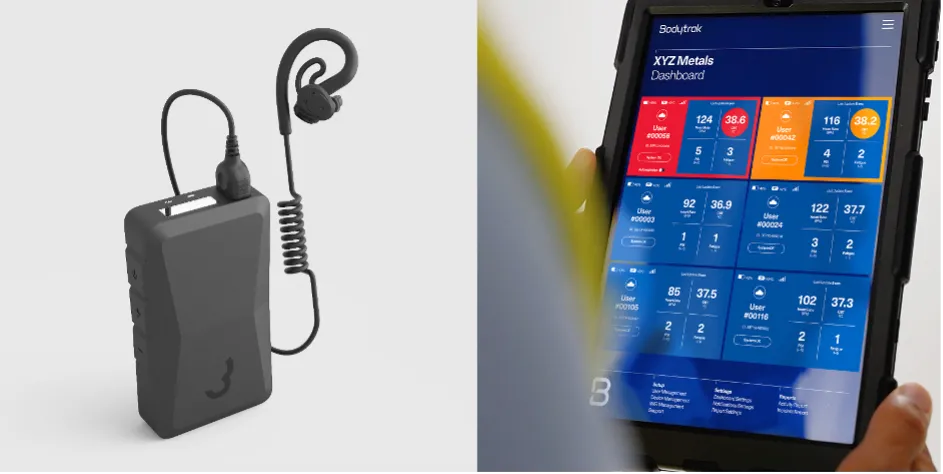 Bodytrak's comprehensive smart safety solution for lone workers

(Left) Bodytrak Communication Pack (CommPack) and Earpiece
(Right) Bodytrak Incident Management Platform indicating a red alert for core body temperature and amber alert
---
Training and education are vital components of ensuring lone worker safety. By providing comprehensive and up-to-date training programmes, organisations equip lone workers with the knowledge, skills and awareness necessary to identify potential risks, respond to emergencies and navigate their work environments safely. By doing this organisations also enhance their safety, boost confidence and foster a culture of proactive risk management. Here are some key aspects organisations should consider when reviewing training and education for lone worker safety:
Hazard Recognition and Risk Assessment: Training should focus on educating lone workers about the hazards specific to their work environment and how to identify them. They should learn how to conduct thorough risk assessments, recognising potential dangers and implementing preventive measures. This includes understanding the signs of hazardous situations, such as recognising unstable structures, electrical hazards or potential violent encounters.
Emergency Response and First Aid: Lone workers should receive training on emergency response protocols, ensuring they know how to react swiftly and effectively in critical situations. This includes learning first aid techniques, CPR and how to use emergency equipment or communication devices. By equipping lone workers with these skills, organisations increase their capacity to provide immediate assistance to themselves or others in times of need.
Communication and Check-in Procedures: Effective communication is crucial for lone worker safety. Training should emphasise the importance of regular check-ins with supervisors or designated contacts. Lone workers should learn how to properly use communication devices and understand protocols for reporting incidents or seeking assistance. Additionally, they should be educated on alternative communication methods in case of device failure or lack of signal in remote locations.
Self-Defence and Conflict Resolution: Depending on the nature of their work, lone workers may benefit from training in self-defence techniques or conflict resolution strategies. This helps them handle potentially aggressive or confrontational situations, enabling them to de-escalate conflicts and protect themselves when necessary. Providing these skills empowers lone workers to maintain their personal safety and make informed decisions in challenging circumstances.
---
Lone worker safety is a critical concern for organisations and individuals alike. As the number of lone workers continues to rise, it is essential to prioritise their well-being and implement effective strategies to mitigate the risks.
Organisations must conduct thorough hazard assessments, establish lone worker policies, provide comprehensive training and implement communication systems. Lone workers themselves should prioritise communication, manage their physical well-being, adhere to check-in systems and utilise PPE. Additionally, leveraging comprehensive technology solutions like Bodytrak, with real-time monitoring, geolocation features and SOS alerts, enhances the safety and well-being of lone workers whilst reducing the overall burden and cost of multiple disparate systems.
By adopting a holistic approach that combines risk assessment, policies, training, technology and ongoing education, organisations can create a safer work environment for lone workers and reduce the number of incidents and fatalities.