Wearable Heat Stress Monitoring Solution Guide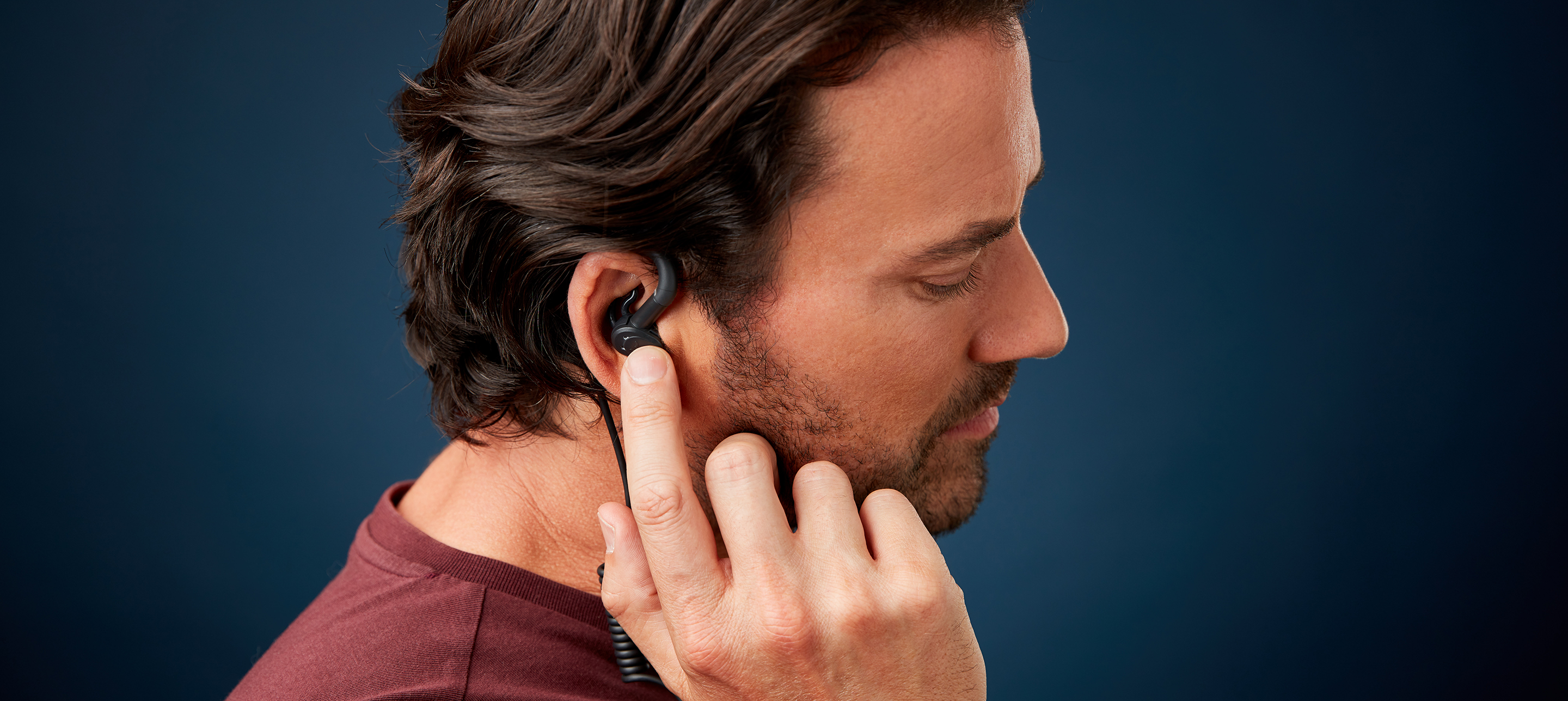 From smart clothing to smart watches, wearable technology has become more popular in recent years with many advantages. Wearable technology is expected to reduce 16% of hospital costs by 2027, and by 2037, it could save $200 billion via remote patient monitoring. There is no wonder why the global wearable technology market was estimated at US $61.30 billion in 2022. The evolution of wearable technology is not only supporting the health sector but other sectors making significant strides in workplace health and safety, protecting workers and organisations from incidents before they happen. Here we take a closer look at wearable heat stress monitoring solutions and how they can keep workers safe around the world.
What is a wearable heat stress monitor?
The importance of implementing a wearable heat stress management system
Compliance and safety regulations
How do wearable heat stress solutions work?
---
Wearable heat stress monitoring devices are often small, lightweight devices worn by workers to monitor environmental conditions and their body temperature. There are several forms of wearable heat stress monitoring solutions that include wristbands, patches and smart clothing. Depending on the device, they measure various factors such as ambient temperature, radiant heat and relative humidity. More advanced technology, like Bodytrak, can monitor an individual's physiological response to heat by measuring core body temperature (as opposed to skin temperature) and heart rate, to provide a more accurate assessment of an individual's response to increasing temperatures.
---
Heat stress is a significant problem in many sectors including construction, production, energy and mining. Exposure to heat can lead to many short and long term consequences including fatigue, dehydration and even heat stroke, which can be life threatening. In one year the Bureau of Labor Statistics reported 43 fatalities in the US as a direct result of heat exposure, while hundreds of workers are estimated to die every year in Qatar. Incidents and fatalities as a result of heat stress are entirely avoidable which is why it is essential to implement a wearable heat stress management system. Wearable heat stress monitoring devices have emerged as an effective solution to prevent incidents by monitoring an employee's core body temperature and assessing their physiological response to the conditions in real-time.
There are countless benefits of using wearable heat stress monitoring devices in the workplace. Using real-time data, organisations can identify and quantify high-risk conditions and implement the appropriate control measures. The data collected can also help employees better understand how their working environment affects their body and adapt their behaviour accordingly. A wearable heat stress monitoring system, like Bodytrak, can prevent serious heat-related illnesses and incidents by alerting both the worker and supervisor when they exceed "normal" thresholds. This ensures quick intervention and the necessary steps required before escalating into a serious situation.
The impact escalating temperatures have on employees and organisations is alarming. Studies project that by 2030, heat stress could lead to a productivity loss equivalent to 80 million full-time jobs, costing the global economy a staggering $2.4 trillion. In the US alone, an estimated $100 billion could be lost annually due to diminished worker capacity from heat stress. For less than a cup of coffee a day per worker, organisations are taking the necessary steps to implement wearable heat stress monitoring solutions, as they know that prevention is the best solution.
---
Understanding and addressing the risks of heat stress is vital. Several countries around the world have enforced mandatory policies to ensure employers provide heat-relieving measures. Wearable heat stress monitoring devices can also help employers comply with safety regulations. Many countries, including the United States, have established guidelines and standards to protect workers from the hazards of heat stress. Failure to comply with these regulations can result in costly fines and penalties for employers. Wearable devices provide an easy and effective way to monitor employee health and safety, ensuring compliance with these regulations. By using these systems, employers can demonstrate their practices and commitment to workplace safety and avoid penalties for non-compliance.
---
A wearable heat stress device typically uses sensors that can measure body or skin temperature, as well as the ambient temperature and humidity. While this was a positive shift for wearables, further innovation is now providing more accurate solutions. Bodytrak measures an individual's physiological response to increasing temperature and provides real-time feedback on their heat stress level. The device is worn on the ear and is equipped with multiple sensors, using advanced algorithms to analyse the data captured in order to continuously provide feedback on the user's response to heat.
Due to its proximity to the hypothalamus (the temperature control centre of the body), the ear is an excellent site to measure core body temperature and heart rate. As a result, Bodytrak is extremely effective and accurate for industrial use, shifting away from the wrist and other skin-based sites used by other wearable solutions which provide less precise data that is compounded by external factors, rather than accurately reflecting an individual's physiological response.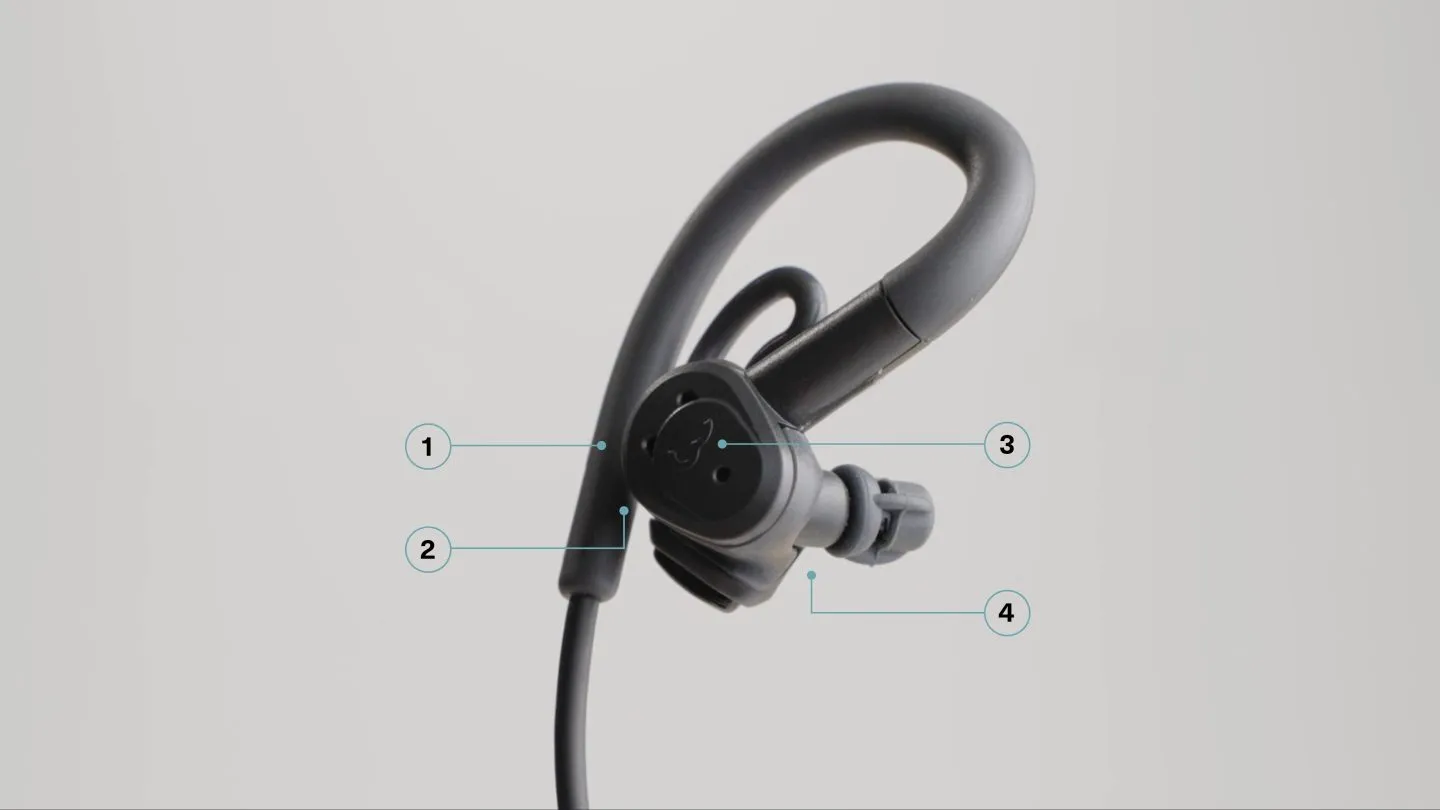 Bodytrak Earpiece

1. Ambient Temperature Sensor | 2. Ambient Microphone | 3. Accelerometer / Gyroscope Sensor
4. Heart Rate / Core Body Temperature / Barometric Pressure Sensor
An effective wearable heat stress monitoring system is one which can be seamlessly integrated into an organisation's health and safety practice and provides supervisors with an easy-to-use tool to keep workers safe remotely. The intuitive Dashboard from Bodytrak allows employers to monitor each individual's physiological response, and provides amber and red alerts when thresholds are exceeded to prevent heat-related illnesses. During alert state, an individual's tile will automatically shift to the top of the screen and be highlighted to ensure it is a priority. Should the supervisor not be in a position to monitor the Dashboard, alerts can also be sent to multiple members of the team (in priority) via SMS and email.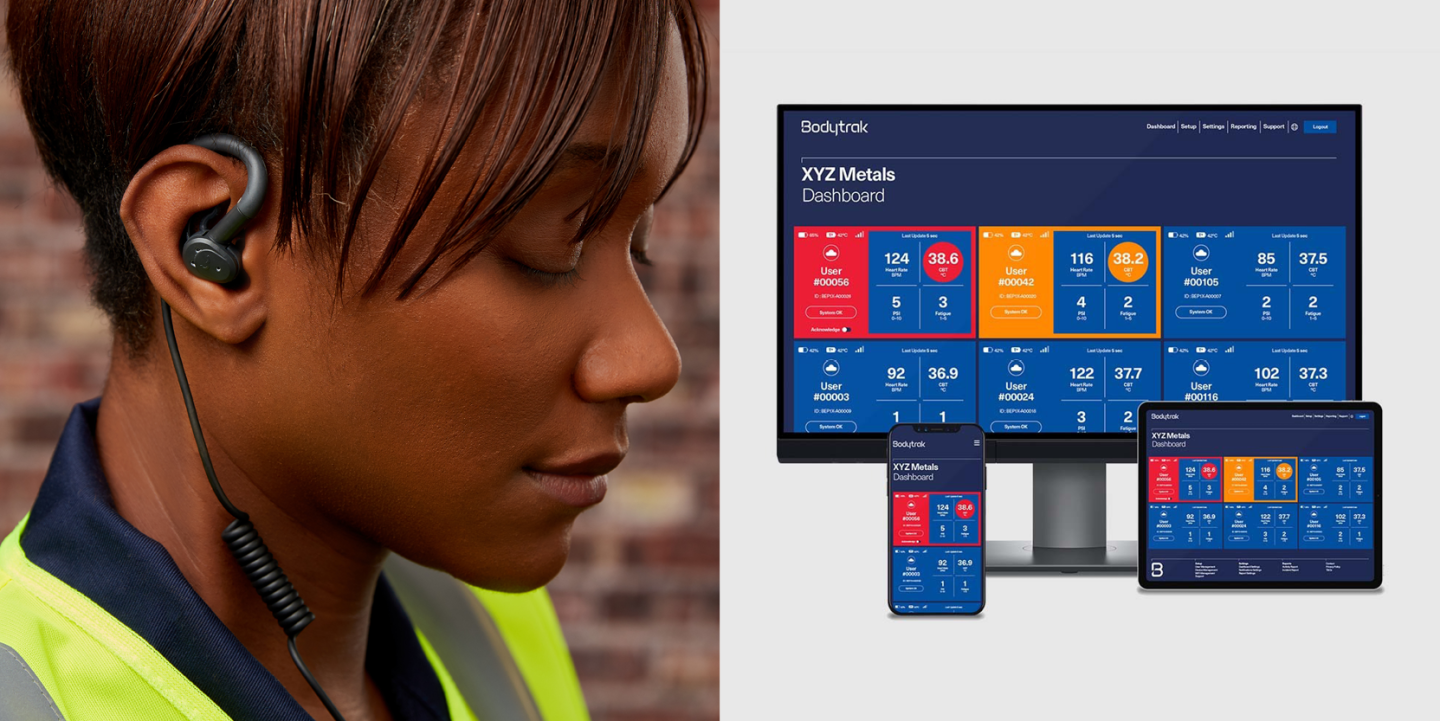 Bodytrak Device

The Bodytrak Device (left) consists of a comfortable, easy to wear Earpiece and communications pack (CommPack), which can conveniently clip to a belt or be placed in a pocket. The device provides 8 – 12 hours of use, audible alerts and data transmission to the cloud.
Bodytrak Dashboard

The Dashboard (right) highlights the information being monitored for each worker and can be viewed across various devices. The amber tile shows a worker approaching preset thresholds so that action can proceed before it progresses. The red tile is highlighted to indicate a worker who has exceeded a preset threshold and in need of intervention/immediate assistance.
---
What device measures heat stress?
There are different devices that can measure heat stress, including wearable wrist solutions to smart clothing. More comprehensive solutions, like Bodytrak, measure core body temperature via the ear for the most accurate readings, especially in industrial environments. The data collected by the device is analysed using advanced algorithms to alert both the user and supervisor if the user exceeds preset thresholds.
What is the best way to avoid heat stress and other heat-related illnesses?
The most effective approach to avoid heat stress is through a combination of preventative measures, such as staying hydrated, taking frequent breaks, and monitoring the individuals for signs of heat illness. It's important to drink plenty of water or other electrolyte-replenishing fluids before and during work in hot environments to prevent dehydration. Frequent breaks in a cool, shaded area are essential to allow the body to cool down and prevent overheating. Employers should also implement measures to reduce heat exposure, such as providing adequate ventilation and air conditioning, and minimising direct exposure to sunlight or other heat sources. Training employees to recognize the signs and symptoms of heat stress and encouraging them to report any concerns is also critical to preventing heat-related illness and injury. Overall, a proactive approach to heat stress prevention is the most effective way to ensure the safety and well-being of workers in hot environments. You can find more information and tips here.
What are the first signs of heat stress?
Early signs of heat stress can include increased sweating, thirst, and fatigue. As heat stress progresses, symptoms can escalate quickly and may include dizziness, nausea, headache, and muscle cramps. In severe cases, heat stress can lead to heat exhaustion or heat stroke, which can cause confusion, seizures, or loss of consciousness. It's important to recognize and address the early signs of heat stress to prevent further progression and potential injury. Understanding who is most at risk can help when developing effective strategies to mitigate the risks in the workplace.
What clothes contribute to heat stress?
While personal protective equipment (PPE) is extremely important in many sectors to protect workers, it can often heighten the risk of heat stress by inhibiting heat loss and leading to heat stress. This is why monitoring individuals in warmer environments with wearable technology is so important. Where possible avoid clothing that can trap heat and prevent sweat from evaporating, such as tight-fitting or heavy clothing made of non-breathable materials like nylon or polyester. Instead, loose-fitting, lightweight clothing made of breathable materials such as cotton or linen are recommended for working in hot environments. It's also important to wear a hat or other protective gear to shield the head and face from direct sunlight.
---
Wearable heat stress monitoring devices are an innovative solution to a workplace risk that is all too common. Monitoring an employee's physiological responses is an effective way to protect worker health and safety, increase productivity, improve workplace culture, comply with safety regulations and reduce costs. As more employers recognise the importance of advancing employee health and safety with the evolution in wearable technology, we can expect to see an increase in the use of wearable heat stress monitoring systems in the workplace. By investing in the right safety solutions to prevent avoidable incidents and injuries, employers can demonstrate their commitment to employee health and safety while maximising productivity and minimising the impact of heat stress on workers.