Sorry, what? The problem of workplace noise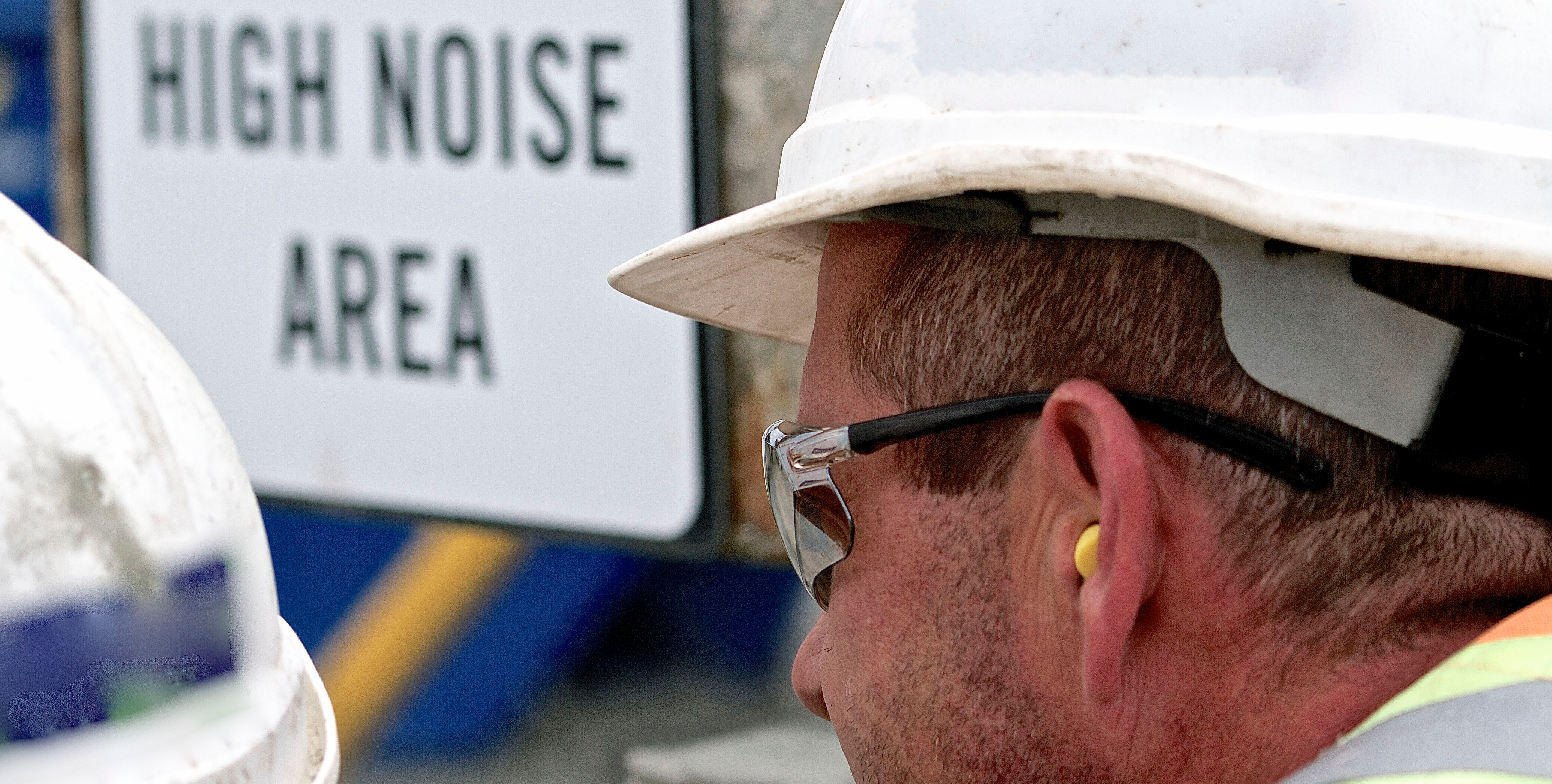 Most of us have experienced extreme noise at some point in our lives – rock concerts and festivals, large sporting events, ambulance sirens, chainsaws and so on. We usually come away unharmed, but noise can be a significant problem for the world's 22 million workers exposed to potentially damaging sound levels every year (The Center for Disease Control).
The World Health Organization finds that noise exposure contributes to 22% of workplace-related health issues, while HSE estimates 11,000 new cases of work-related hearing problems in the UK each year. Most cases are associated with workers in the industrial sector – from metals to paper and fibre manufacturing – mining and machine operators, to name a few. However, workers in logistics, warehousing and some offices can experience noise levels considered too loud.
Noise-related health and safety issues
---
If not correctly managed and addressed, prolonged exposure to loud environments can lead to noise-induced hearing loss (NIHL), such as tinnitus – a ringing, buzzing, whooshing or hissing noise in the ears – and, in some cases, deafness. Living with NIHL can lead to psychological stress, profoundly affect a person's ability to communicate, and impact their overall quality of life.
Aside from hearing problems, noise exposure can cause or increase a person's susceptibility to other health symptoms. Research shows that exposure to loud noise can impact the body's stress systems. Persistent loud noises can trigger the release of stress hormones and cause the sympathetic nervous system to react by increasing heart rate, blood pressure and inflammation.
Over time this can lead to an increased risk of heart disease, heart attack and stroke, stomach problems, trouble sleeping, and impaired cognitive performance – all compounding health and safety risks in the workplace.
---
Employers have a responsibility to protect workers against NIHL and the associated risks. Health and safety regulations stipulate safe noise levels and provide guidelines to protect employees.
For instance, in the UK, US and Australia, employers must provide hearing protection from noise exposure above an average of 85 decibels over a typical eight-hour shift. That's the equivalent of a worker's diesel truck travelling 40 miles per hour, a food blender or a noisy restaurant.
Ear defenders are an obvious solution, but organisations are also encouraged to offer hearing assessments and training for employees regularly exposed to loud noise.
---
Ear defenders effectively block out sound and can be worn as part of PPE. And since it is difficult to accurately measure the level and consistency of noise exposure in any given environment, they make a good catch-all solution.
However, ear defenders can also present some limitations. By continuously blocking out all sounds, workers can become confused and lose situational awareness. They may be unaware of nearby risks, like machinery or moving forklifts, and cannot hear people around them who may be giving instructions or warnings. The consequences can be fatal – HSE reported that 19% of worker deaths were caused by a moving vehicle in 2021/22.
---
Technological innovation now presents organisations with advanced hearing protection while helping paint a more accurate picture of the risks associated with noise exposure.
Bodytrak is an in-ear device that offers optional hearing protection for loud environments. Its Hear:Safe™ capability provides an effective noise barrier on its own, or as part of existing personal protection equipment (PPE). For employees that don't require continuous hearing protection – for example, those moving into and out of loud environments – Bodytrak's Hear:Thru™ earbuds allow ambient sounds to pass through the device into the ear so the wearer can easily communicate and maintain situational awareness.
When situational awareness is lost through reduced hearing, employees are at greater risk of entering controlled access or hazardous zones – such as in mining – without realising. Technology allows geolocation and geofencing features to be incorporated into hearing protection so that users – and their supervisors – are instantly alerted if they have roamed outside of the safe area.
Importantly, Bodytrak continuously monitors external noise levels at the wearer's ear, making it easier to understand sound exposure and risk where it really matters. This provides organisations with more accurate and reliable data about the noise levels their employees experience throughout their working day, every day. These insights also better inform health and safety policies and noise-prevention practices.
---
Aside from noise protection and monitoring, Bodytrak accurately measures physiological factors like core body temperature and heart rate in real time to detect heat stress and fatigue, while an in-built accelerometer alerts to falls. An alert signal is triggered if any marker exceeds preset safe thresholds, notifying the user and supervisors of the alert and its location so that incidents can be prevented or rapidly treated.
Bodytrak is a cost-effective health and safety management tool for organisations today addressing multiple workplace challenges and hazards from a single device. It provides businesses with a holistic view of employee health and risk factors at any moment, while taking into account their individual tolerances. Over time, the data on each person's physiological response to workplace stressors generates important trends that could impact people and performance so that risks can be better mitigated.
Let us know how your organisation approaches noise management, or contact us if you'd like to discuss how Bodytrak could help. Check out our Guide to Managing Noise in the Workplace to learn more.
---
Written by Leon Marsh, Founder & CEO of Bodytrak (14 September 2023)